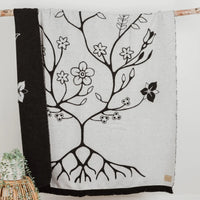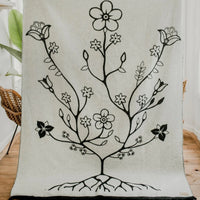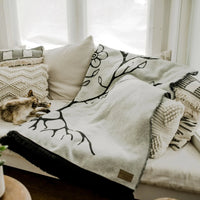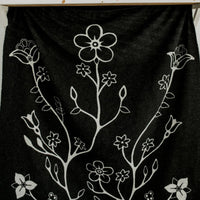 Blanket - Wool Blend - Eco-friendly - Woodland Floral Black/White - Reversible
Product Code: MTEB10
Artist: Anna Heffernan
Nation: Curve Lake - Michi Saagiig - Anishinaabe
 Made with recycled fabric

Eco-friendly Blankets are made of 50% recycled polyester, 30% acrylic, and 20% recycled wool. A perfect soft warm blend that will last a long time. 
Our eco-friendly everyday blankets are made from sustainable fabric woven in Italy. It's perfect for family picnics, camping, and getting cozy around the campfire, and is made large enough for a queen-size bed or a throw blanket.
60" x 80"
About the Floral

 

Pattern Design
The floral design of this fabric was inspired by traditional floral beadwork, a style that was developed by bead workers of the Woodlands nations after the introduction of glass beads during the fur trade. Floral beadwork and appliqué designs continue to be a fundamental part of regalia for Anishinaabeg and other Woodlands nations.  
About the Indigenous Artist Anna Heffernan
Anna Heffernan is a multidisciplinary artist of Michi Saagiig Nishnaabe, Irish, and French Canadian ancestry. She is a member of Curve Lake First Nation, and now lives in Ottawa, Ontario. Her art blends traditional and contemporary media, styles, and themes. More of her work can be found on Instagram @miskwaadesigns.
Wash cold, hang dry
Designed and made in Canada