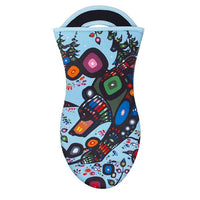 Product Code: OS1459
Artist: John Rombough
On an early spring morning, the bear in his elements is walking alongside grandfather rocks. As the Ancestors watch over the land, the ravens welcome the bear from a long winter's nap.
Oven mitts are made of 100% polyester and fire-resistant, non-slip neoprene, and are PVC, BPA, and latex-free. 
Protects up to 400 F / 204 C. 
Designed in Canada
Made in China