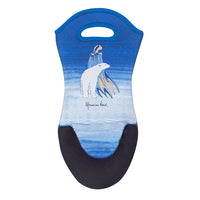 Oven Mitt - Mother Winter
Product Code: OS1461
Artist: Maxine Noel
Nation: Santee - Sioux & Oglala - Sioux
The great majestic polar bear blends into the winter landscape... protected by Mother Winter.

Part of the proceeds go to the Canadian Wildlife Federation. Support the polar bear and other endangered Canadian species.
Oven mitts are made of 100% polyester and fire-resistant, non-slip neoprene, and are PVC, BPA, and latex-free. 
Protects up to 400 F / 204 C. 
Designed in Canada
Made in China