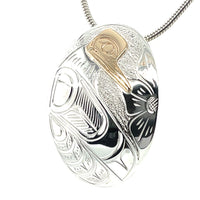 Pendant - Gold & Silver - Oval - Hummingbird - Medium/Large
Product Code: MM37W141
Artist: Mike Matilpi
Nation: Kwakwaka'wakw & Cree
HUMMINGBIRD: joy, healing, beauty, comfort
Designed by Mike Matilpi
Mike Matilpi, born in Alert Bay to the Kwakwaka'wakw Nation and a family of revered wood and jewellery carvers, has been carving silver and gold jewellery since 1993. He was taught by his father, Charles Harper, himself a well-known carver who has been working since 1974. Mike has also been greatly influenced by other relatives of his, such as Doug Harper, Glen Harper, Les Harper, George Matilpi, Dennis Matilpi, and Paddy Seaweed. He has taken many specialized courses in silversmithing to further his craft, including bezel stone setting. His work can be recognized by the masterful combination of gold and silver and the charming and traditional animal designs.
Authentic, handcrafted, original sterling silver and 14kt yellow gold pendant

Made in Vancouver
Chain sold separately
1" x ¾"