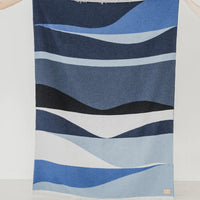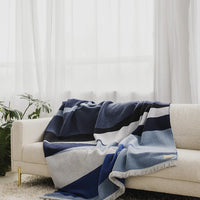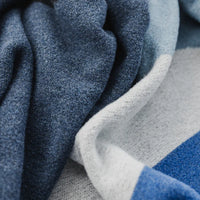 Blanket - Wool Blend - Eco-friendly - River - Reversible
Product Code: MTEB18
Artist: Trisha Pitura
Nation: Nipissing - Ojibway
 Made with recycled fabric
 Gives back a portion of proceeds
This gorgeous blanket is made from sustainable fabric woven in Italy. It's perfect for family picnics, camping, and getting cozy around the campfire and is made large enough for a queen-size bed or a throw blanket. The warm and luxurious wool/acrylic/polyester blend makes them soft, yet washable. The trim adds a beautiful finish.
About the River Design
Water is life. Water is the heartbeat of all living things.  We depend on water to always be there, clean and pure to quench our thirst and fill our cells.   We take this natural essential for granted and must remember that this is a privilege.  There are still many Indigenous communities across Canada that do not have clean drinking water.  We all have a duty to ensure the water is protected, respected and honoured.
A portion of the sales of this blanket will go towards Water First, to help indigenous communities gain clean drinking water through education and training and meaningful collaboration.
Water First works with communities in Canada to provide locally-based education and training opportunities for young indigenous adults through internship programs to gain the technical skills required to monitor and provide safe clean water to their communities.
Made in Canada
About Trisha Pitura, Head of Design at MINI TIPI

Trisha Pitura is a creative force, mother, entrepreneur and co-owner of MINI TIPI. She is originally from Sudbury, Ontario and is a member of Nipissing First Nation. Couple of years ago, she started reconnecting with her culture. Now she is able to explore her identity as an Ojibwe woman through fabrics, creativity, and our business, MINI TIPI. 
Throw fabric 
50% recycled polyester, 30% acrylic, 20% recycled wool

Perfect soft and warm blend that will last a long time.
Size: 60 inches x 80 inches


How to clean your MINI TIPI blanket

Wash on cold, and hang to dry.