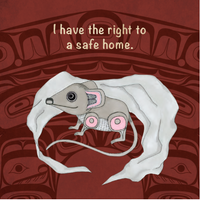 Board Book - Learning My Rights with Mousewoman
Product Code: CBB22
Artist: Morgan Asoyuf
Nation: Tsimshian
The tiny but mighty Mousewoman is a legendary figure in the oral and visual practices of Northwest Coast Indigenous cultures. She is both grandmother and oracle, able to travel in and out of the spirit world. Mousewoman sits on young people's shoulders in crucial times, whispering advice and knowledge. She protects and guides young people by helping them avoid or escape bad situations, and is never afraid to stand up to bigger beings.
Learning My Rights with Mousewoman, by Morgan Asoyuf
This book brings to life the timeless lessons of Mousewoman—lessons that embody the principles outlined in the UN Declaration on the Rights of the Child and the UN Declaration on the Rights of Indigenous Peoples. A first of its kind, this book empowers children to become proudly aware of their rights.
All Native Northwest board books use soy-based ink and a water-based protective coating and are printed on paper sourced from sustainable forests. 
6.5" x 6.5"
22 pages