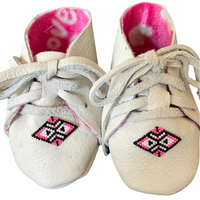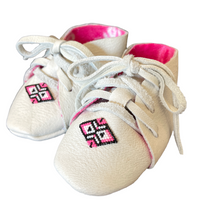 Moccasins - Infant - Moose Hide - Pink Beads
Product Code: DELON24
Artist: Dena Leon
Nation: Sto:lo - Coast Salish & Okanagan - Interior Salish
Hand crafted by Dena Leon.
Dena Leon (Lhkwemiya) is Stó:lō and Okanagan artist from the Sts'ailes community near Harrison Mills, BC, specializing in bead- and leatherwork. Her work, which can be found under the name Beading Heart, includes baby moccasins, jewelry, beaded floral pieces, and more. Her baby moccasins all feature unique beaded designs and are handsewn from soft deerskin leather. Her traditional name, Lhkwemiya, was given to her by her grandfather, Swelimeltxw (Ed Leon), after a mountain near her home territory: the mountains are known in Halq'emeylem as the 'Three Sisters,' and Lhkwemiya, like Dena, is the third sister. Her father, Swelimeltxw (Rudy Leon), a craftsman, skilled drum maker, and buckskin dressmaker, taught her how to work with various materials, and her grandmother was a master basket weaver, knitter, and crocheter. Both mentored her and inspired her to pursue the interweaving of traditional knowledge and contemporary art forms.
These stunning handmade moose hide moccasins are lined with light fleece fabric for the ultimate comfort of your newborn. 
The sole measures 11cm on the outside of the moccasin.
Designed and made in Canada