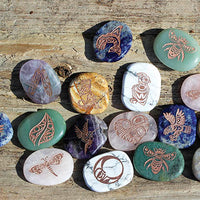 Spirit Stone - Rose Quartz - Dragonfly
Product Code: SS13
Artist: Simone Diamond
Nation: Coast Salish
 Dragonflies live in the water, on the land, and in the air. They teach us harmony of life. 
Their colours reflect the magic of creation. 
Rose Quartz - Unconditional Love 

Each semi-precious stone is unique, varying slightly in size and colour. Stones measure approximately 1.25" by 1.75" and are laser etched in a metallic copper colour. 
Designed in Canada
Made in China