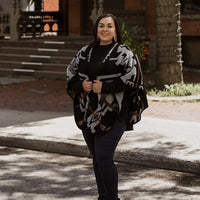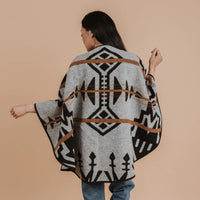 Shawl - Wool Blend - Eco-friendly - Harvesters - Reversible
Product Code: MTES16
Artist: Tsista Kennedy
Nation: Anishinaabe & Oneida
 Made with recycled fabric
Shawls are made of 50% recycled polyester, 30% acrylic, and 20% recycled wool. A perfect soft warm blend that will last a long time. 
This stylish medium-weight shawl will be your go-to accessory to keep you warm while looking good! The eco-friendly material woven in Italy is soft and luxurious and will keep you cozy all season long. The new pattern cut is the perfect fit on any body type, and can also be a great addition to your pregnancy wardrobe keeping you and your belly warm in those last months.

This shawl is your forever piece.
About the Harvesters Design
"When creating a design for MINI TIPI, I felt it would not be genuine to simply adhere to frequently used styles of geometric designs. This is why I chose to include the subject of wild rice harvesting from my own culture as an Anishnaabe. Anishnaabe quilt work was also a source of inspiration for the geometric patterns featured in my design."

In September, during the harvest moon, the Ojibwe peoples begin the rice harvest. The harvest is done in pairs using poles to hit the rice stalks, knocking the grains into the canoe. Rice is an important historic food source for the Ojibwe people, feeding their families over the winter months. 
About the Indigenous Artist Tsista Kennedy
Tsista Kennedy is an Anishnaabe Onyota'aka woodland-style artist from Beausoleil First Nation and Oneida Nation of the Thames. Tsista has been creating woodland-style art for several years, using his experiences as a young indigenous man to fuel his passion for creating art that speaks strongly to others.
"I hope that my design serves to be an inspiration for others to begin looking towards the rich and meaningful artwork within their own nations."
Wash cold, hang dry
Designed and made in Canada