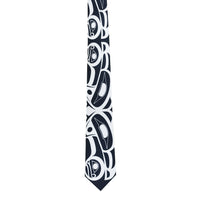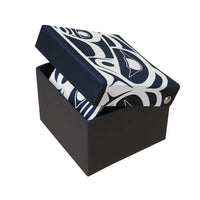 Product Code: OS5602
Artist: Roy Henry Vickers
Nation: Tsimshian/Haida/Heiltsuk
In our stories, Raven is trickster and creator. Black Raven is trickster and white Raven is creator. Raven is my Chiefly crest from the House of Walkus, Wuikinuxv, B.C.
Ties are printed on silk, complemented with the artist's signature on the back, and packaged in an elegant silk-topped box matching the tie's design. 
Ties are 7cm at the widest point. 
All royalties paid.
Designed in Canada
Made in China