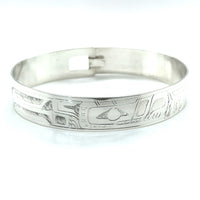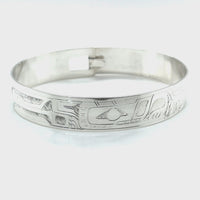 Bangle - Sterling Silver - 1/2" - Wolf
Product Code: GP040W26
Artist: Gilbert Pat
Nation: Coast Salish
Handcarved and crafted sterling silver bangle by Gilbert Pat.
Gilbert Pat, born in Sardis, British Columbia in 1945, is a well-known Northwest Coast jewelry artist of the Coast Salish Nation. After moving to Alert Bay and working as a carpenter and commercial fisherman, he began carving in 1976. He is mainly self-taught, but was mentored by Lloyd Wadhams Sr. of the celebrated Seaweed and Shaughnessy families, from whom he learned to carve with fine detail and high craftsmanship. He works primarily in silver, and his work is widely recognized for its whimsical carvings that incorporate traditional Salish design elements.
Wolf: intelligence, family, loyalty, leadership
1/2" width x 7" inside circumference of the bracelet. (when clipped closed) Comfortably fits wrist circumference of roughly 6.75".
Made in Canada