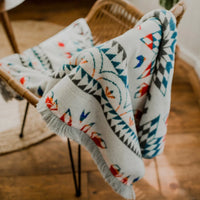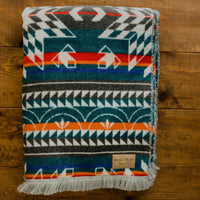 Blanket - Wool Blend - Eco-friendly - Nibi - Reversible
Product Code: MTEB03
Artist: Nikki Shawana
Nation: Anishinaabe
 Made with recycled fabric

Eco-friendly Blankets are made of 50% recycled polyester, 30% acrylic, and 20% recycled wool. A perfect soft warm blend that will last a long time. 
Our eco-friendly everyday blankets are made from sustainable fabric woven in Italy. It's perfect for family picnics, camping, and getting cozy around the campfire, and is made large enough for a queen-size bed or a throw blanket.
60" x 80"
About the Modern Star Quilt Design
The Stars show our connection to the universe.
The domes are the Haudenosaunee design that represents the Skyworld.  
The florals, using Anishinaabe woodland designs, remind us of the beauty of nature.
The berries are to honour the bears. The trees and forest are the original place of healing and wellness: in the forest we find our medicines, solitude, peace, and balance.
About the Indigenous Artist Nikki Shawana
 Nikki Shawana is a mother, wife, businesswoman, teacher, and friend who loves to travel North America to dance and sing at Pow Wows. When it comes to making art, she follows in the footsteps of her grandparents who were talented craftspeople. Nikki enjoys making moccasins, mittens, beadwork, sweetgrass baskets, and Star Quilts.
Wash cold, hang dry
Designed and made in Canada