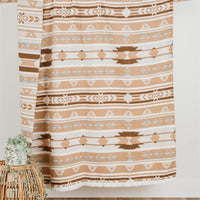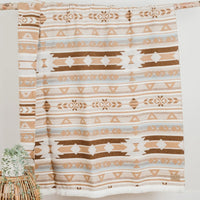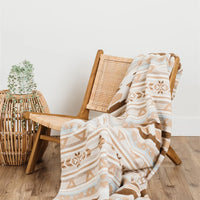 Blanket - Wool Blend - Eco-friendly - Sand - Reversible
Product Code: MTEB02
Artist: Trisha Pitura
Nation: Ojibway
 Made with recycled fabric
Eco-friendly Blankets are made of 50% recycled polyester, 30% acrylic, and 20% recycled wool. A perfect soft warm blend that will last a long time. 
Our eco-friendly everyday blankets are made from sustainable fabric woven in Italy. It's perfect for family picnics, camping, and getting cozy around the campfire, and is made large enough for a queen-size bed or a throw blanket.
60" x 80"
About the Medicine Wheel Pattern Design
First Nations people are guided by the sacred circle called the medicine wheel, which shows how all things are connected: the four cardinal directions, East, South, West, and North; the four seasons, Spring, Summer, Fall, and Winter; and the four wellbeings of life, Spiritual, Emotional, Physical, and Mental. 
We are all in charge of our own destiny. Stay connected to your true self and all things surrounding you. Follow your direction. 
About the Indigenous Artist Trisha Pitura
Trisha Pitura is a creative force, mother, entrepreneur, and co-owner of MINI TIPI. She is originally from Sudbury, Ontario and she is a member of Nipissing First Nation. After reconnecting with her culture, she is now able to explore her identity as an Ojibwe woman through fabrics, creativity, and her business, MINI TIPI. 
Wash cold, hang dry
Designed and made in Canada