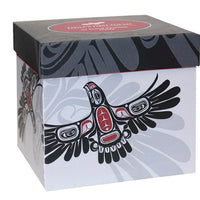 Mug - Glass - Eagle's First Flight
Product Code: GMUG13
Artist: Ernest Swanson
Nation: Haida
12 oz./355ml
High borosilicate glass. Packaged in a keepsake box.
WHAT IS BOROSILICATE GLASS?
Commonly known as 'laboratory glass', the borosilicate glass found in these double-walled glass mugs will ensure that you can pour boiling hot water without fearing cracks or shatters. The boron trioxide found in borosilicate glass provides a very low coefficient of thermal expansion, meaning it will not crack under extreme temperatures changes like regular glass. This ultra high-quality glass is often found in high-end restaurants, laboratories, and wineries.
Top-rack dishwasher and microwave safe.
Designed in Canada
Made in China